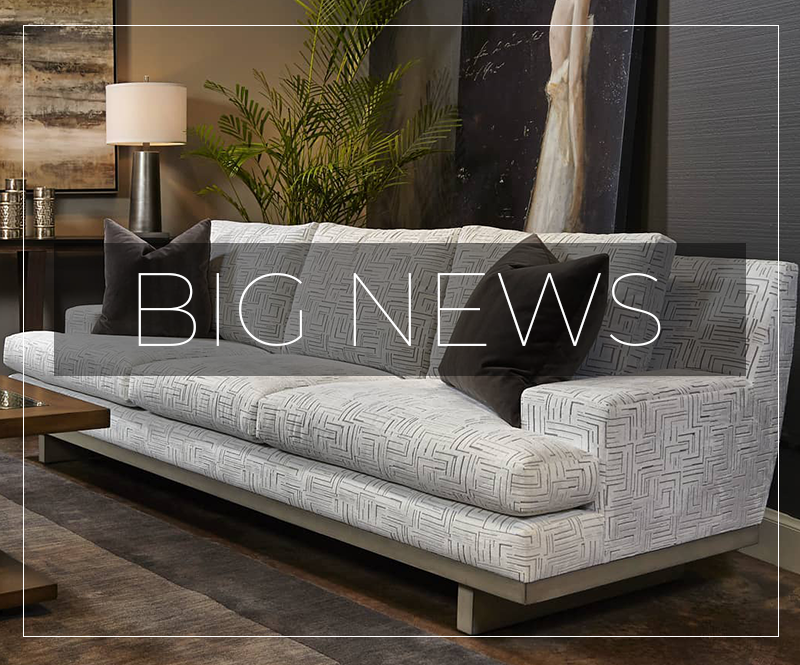 This Market We Have Some Big News
This Spring: Burton James and Charleston Forge Deliver a New Showroom Experience to High Point Market Shoppers
The two design industry mainstays announce their new showroom partnership debuting April 21st
High Point, NC. April 1, 2023 – Southern California-based upholstery brand Burton James and North Carolina-based furniture manufacturer Charleston Forge are thrilled to announce they have joined forces in a joint showroom in High Point, NC.
Debuting at Spring Market this April, the duo's venerable lines of designer-focused furnishings will be showcased together in the five thousand square foot Hamilton/Wrenn space that Burton James has occupied since 2014.
In speaking about the partnership, Burton James' Mark Landres says, "The relationship between Burton James and Charleston Forge goes back well over 30 years to when both companies started creating the legacies we have today. This history is why, when the opportunity to have them partner with us at market presented itself, it was such a logical collaboration. More than that, our companies have a shared commitment to the role of the design profession and the Trade Industry built into our respective cultures. In the bigger picture, our product lines are complementary in a design sense, and in that, we appeal to the same customer. So bringing both brands under one roof is a win for guests to the showroom, allowing them to engage with our products and teams more efficiently."
"The move to our new showroom is a great opportunity from both the standpoint of our new partnership with Burton James as well as its prime location," says Dan Minor, president of Charleston Forge. "Burton James has a similar story and similar standards, they are a family-owned company producing high-end, domestically manufactured products for the discerning customer."
"The location is perfect for us — we're remaining in the high-end Hamilton-Wrenn District where we have been for five years already and know that being on the street level is going to bring in even more traffic," Minor adds. "Above and beyond this our company cultures mesh well which lends itself to creating a warm and welcoming showroom atmosphere at Market."
Beginning Friday, April 21st, market attendees can view the latest Charleston Forge and Burton James collections in person as part of the High Point Spring 2023 Market.
Burton James + Charleston Forge
310 N. Hamilton Avenue
Suite 101
High Point, NC
April 22 – April 26
8 AM – 6 PM